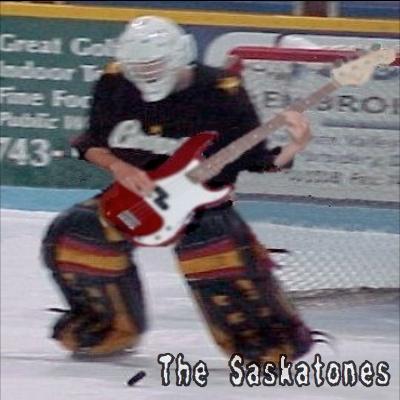 Unfortunately, this album is not currently available for download.
Drop us a line
and we'll let you know when this becomes available.
All Of It Or Nunavut
Pepper Is Something I Put On My Plate
Bright Lights, Big Megacity
Have Toque Will Travel
Minimum Wage
Raised Eyebrows
On Our Way To North Battleford
All songs (c) 2001 The Saskatones except "Raised Eyebrows" written by Mercer/Million.
Vocals on "Minimum Wage" by Tony Salomone.
The Saskatones
The Saskatones are easily the greatest band I know. The play surf rock in a town that couldn't be further from the ocean and still be on earth. The members of the Saskatones have many things in common. They all played Junior D hockey in North Battleford. All of the Saskatones have been to jail. They all consider donuts a reasonable breakfast. Appreciation of Godzilla movies is a requirement to be a member of the Saskatones.
RIYL:
Shadowy Men On A Shadowy Planet, Man Or Astroman?, monsters
About Rock Oot!
The Saskatones recorded this album between season of Junior D hockey and jail sentences.