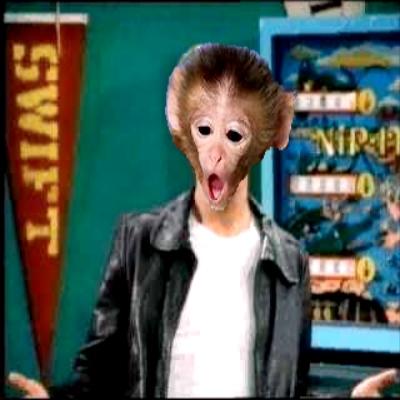 Unfortunately, this album is not currently available for download.
Drop us a line
and we'll let you know when this becomes available.
Fonzanzee Theme Song
The Repo Code
Song For A Great Piece Of Ass
Chimpandemonium '76
Hail To The King
Prim8ology
The Essence
Funktastic Voyage
Song For A Great Piece Of Ass (finale)
All songs stolen by a chimp that can't be sued.
Fonzanzee recorded this in 2001 and then disappeared forever.
If you have a problem with any of this then please feel free to try to find Fonzanzee.
When you do please let me know. He owes us a lot of money.
Fonzanzee
Fonzanzee is my favourite primate musician in the world. This half-man half-chimp phenom disappeared as quickly as he broke on to the scene in 2001 leaving behind this single masterpiece as the lone documentation of his existence. Some say he returned to the lab, some say he a children's movie star, and others claim he has dedicated his life to taunting Karl Pilkinton. Whatever the case, we haven't heard from him since he dropped off this record and left Dadmobile HQ with my booze and my girlfriend.
RIYL:
hyper-intelligent chimps
About Hail To The Chimp
Fonzanzee is a hyper-intelligent half-man-half-chimp that was given way too much liberty and alcohol in our studio. The result is a set of hilarious grooves formed out of a mish mash of indie rock and movie samples.