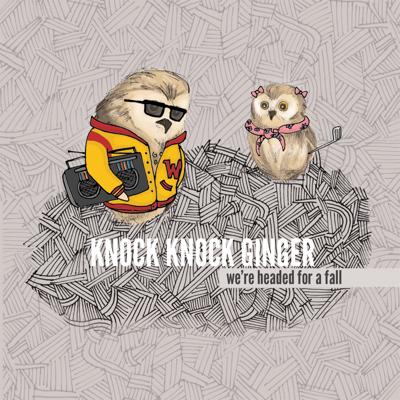 August Has The Cruelest Mouth
Margot, Don't Be A Hero
Safety In Letters
The Lioness
If You Recall, I Spent That Summer In Rome
Scrapbooks
Happy Dream When I'm With You
The Commute
Disco Hit
It's Your Money, Honey
Performed and written by Knock Knock Ginger.
"The Commute" written by the Barmitzvah Brothers.
Produced by Milosz Sikora. Co-produced by Mike Bond.
Engineered and mixed by Mike Bond in Waterloo, Ontario.
Mastered by Tony Salomone at Dadmobile Studios.
Drums recorded at Trepid House with Jeff Woods.
Artwork by Jaimee Ogilvee.
All material (c) Knock Knock Ginger 2010.
Knock Knock Ginger
Knock Knock Ginger, or KKG as the cool kids call them, is probably the most wonderful band I know. They have been together continuously for longer than any other band on the label. They were once called the best prom band that has never played a prom. They are the only band on the label to ever play theremin live and they have the most songs featuring trumpet. Knock Knock Ginger has had more female members and more fantasy football players than any other band on Dadmobile.
RIYL:
Decemberists, Belle And Sebastian, life
About We're Headed For A Fall
After 7 years and two EPs, KKG presented their first full length album in 2011. WHFAF presented an energetic performance by the band that greatly expanded the scope of KKG's sound. The album featured staples of the band's live set from previous years as well as a few studio gems, and even a Barmitzvah Brothers cover. If you have a physical copy of the CD then you get to find out how the scenario on the cover plays out.