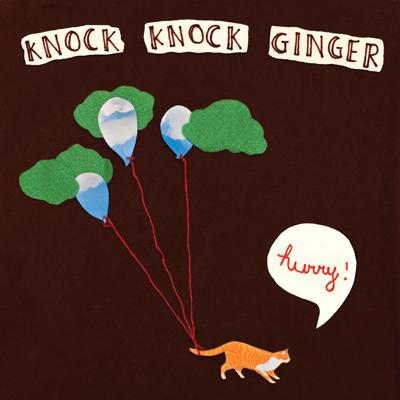 Unfortunately, this album is not currently available for download.
Drop us a line
and we'll let you know when this becomes available.
You Could'e Been My Johnny Marr
Looks And Books
Virginia Black
Stained With Blue
Syllables
Recorded in 2005 at The House of Miracles in London, Ontario.
Produced by Knock Knock Ginger and Andy Magoffin
Mastered by Ryan Mills at Little King Studios in Toronto, Ontario.
Written by Milosz Sikora.
Performed by:
Matt Charters (guitar, horns, percussion, and backup vocals)
Owen Cherry (drums, percussion, chimes, triangle, backup vocals)
Melissa Djurakov (Wurlitzer piano)
Milosz Sikora (vocals, guitar, and percussion)
Andrea Smirle (cello)
Andy the Metler (bass, Theremin, Hammond organ, backup vocals)
Jenny Mitchell (vocals on 'Looks and Books' and 'Virginia Black')
Nicky Nicky Nine Doors Choir ("Looks and Books")
Artwork: Amy Lam
Knock Knock Ginger
Knock Knock Ginger, or KKG as the cool kids call them, is probably the most wonderful band I know. They have been together continuously for longer than any other band on the label. They were once called the best prom band that has never played a prom. They are the only band on the label to ever play theremin live and they have the most songs featuring trumpet. Knock Knock Ginger has had more female members and more fantasy football players than any other band on Dadmobile.
RIYL:
Decemberists, Belle And Sebastian, life
About Hurry!
Released independently a few years earlier, this was re-released on Dadmobile when the label released the Based On A True Story EP.